RIDE SELECTION AT THE B&B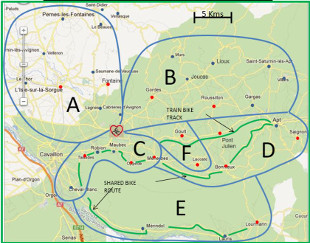 You have the flexibility to choose a ride based on the sights that you want to see, and how hard or easy you want the ride to be.
Choose from 30 rides in our Ride Directory.
STEP ONE - you choose a zone to visit:
We have grouped our rides into 6 different geographic zones around our farmhouse.
By choosing a zone you will get a full different day's cycling and sights each day, with very little repetition from one day to the next.
You'll will get to see beautiful old villages, countryside and some amazing sights on each day's ride (chateaux, museums, churches, provençal markets, restaurants, vineyards, cafés etc).
The following are our 6 different zones:
Zone A - Along the waterways.

This is a lovely , very flat ride with just 35 kms / 21 miles and only 150m of climbing, where you can visit L'Isle sur la Sorgue, Lagnes & Fontaine de Vaucluse. With a longer ride you can visit these villages plus St Didier & Pernes les Fontaines for approx 65 kms / 40 miles.

Zone B - 2 of the most Beautiful Villages in France.

A superb, rolling ride with just 39 kms / 24 miles and 500m of climbing, we can take you the easiest, and a very picturesque way to two of France's "Most beautiful villages" Gordes & Roussillon. With a longer ride you can visit these villages plus Murs, Lioux & St Saturnin for approx 65 kms / 40 miles.

Zone C - "A Year in Provence" country.

With just 37 kms / 23 miles and only 350m of climbing you can visit the archetypal Luberon villages of Menerbes, Oppede le Vieux, Maubec, Robion & Les Taillades. With a longer ride you can visit these villages plus Vidauque & Cheval Blanc for approx 52 kms / 32 miles.

Zone D - Rail bike track to Bonnieux.

With a minimum of an easy 52 kms / 32 miles and only 380m of climbing you can visit the superb rail bike track, the Roman Bridge, Apt & Bonnieux. A longer ride visits these villages plus Saignon & Lacoste for approx 65 kms / 40 miles.

Zone E - Around the Petit Luberon Hills.

With 76 kms / 47 kms and a 800m of climbing you can cycle around the Luberon visiting Vidauque, river orchards, Merindol, Lauris, Lourmarin & Bonnieux.

Zone F - Unknown treasures.

With just 35 kms / 21 miles and 450m of climbing we can take you the easiest way to visit Goult & Lacoste. A longer ride visits these villages plus Joucas & Gargas for approx 65 kms / 40 miles.
STEP 2 - You then choose your ride within that zone:
Use our Ride Directory, along with help from us to choose your specific ride for the day. All of our rides are classified along two criteria:
1 - the Distance :

How far you want to go in Kms.

Minimum distances - Please note that four of our zones require just 35/39 kms (21/24 miles) of cycling during your whole day, over flat to rolling terrain, whilst giving you plenty of sights and a full day's entertainment.

A fifth zone is a minimum of 52 kms - but it's easy as it uses the train bike track and thus has an engineered low gradient.

Equally, if you prefer to cycle longer distances that, too, is available with rides from our Ride Directory. We can also use our knowledge of the roads and sights to draw you a GPS route specifically for you.

2 - the Level of Climbing Difficulty:

Our rides are rated from 1 (easy - with very little climbing) to 5 (hard - with lots of climbing). You also have the altitude gain in metres for each ride.
Once your zone and self guided ride chosen, simply select the ride number on your Garmin GPS and off you go! Please note that all rides start and finish at the farmhouse.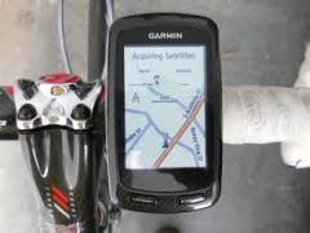 We will of course give you a run down on how the GPS works and we'll also take you out for a short 3 kms pratice ride too - but don't worry it really is a simple and a great way to cycle! And as back-up, we will give you a carry card with all the basic functions of your GPS - there's no need to worry though as we haven't lost anyone yet.

Note the Garmin GPS fixes solidly onto your bike's handlebars, and comes off easily for when you are visiting on foot.
As first time cyclists we knew nothing about organising a cycling holiday. We didn't need to worry as Neil took care of everything. A huge selection of self-guided tours all pre-programmed into a GPS that attaches to your bike.
Sarah - US - July 13.

The cycling is easy to moderate, though can be made a bit challenging by increasing the distance to as much as you would like. The GPS guidance is truly splendid and the scenery is first-class.
D. July 12.

"Choose from 60+ routes that accommodate a spectrum of skill and fitness levels, all programmed into a bar-mount Garmin instrument that guides you along the back roads of Provence. "
P. SanderS - US - May 12.

Our cycling experience couldn't have been better. Neil was able to customized our daily rides and knew just where to send us for a day of riding through lavender fields, olive and cherry orchards to hill top castles with fabulous views of the Luberon region.
Nancy - US - July 11.

"Multiple rides withreally wide ranging lengths/climbs/variations, and really good information to accompany each ride, i.e. maps, climbs, sights of interest along the way and ideas for how to make the most of the ride. We didn't miss anything."
Richard & Annette - UK - June 2010.

"Neil has a complete menu of different rides to choose from, depending on the kind of challenge you want. Or he can create a route for you right on the spot."
Donna - US - June 2010.
Click HERE to read more about our GPS Systems.