MEALS AT THE B&B
We provide a substantial breakfast each morning & a set 3-course evening meal every third night, leaving you your remaining nights and your lunches to try the excellent local produce & cuisine. Hopefully, our listing of our favourite restaurants & cafes will point you in the right direction.
Breakfast - Each morning we will put on a French buffet Breakfast (served until 10am) consisting of fresh croissants, patisseries and bread (all from the excellent wood-fired bakery), home-made jams & honey, yoghurts, fresh fruit from the farmers' market and our garden, cereals, and of course juice and a range of hot drinks.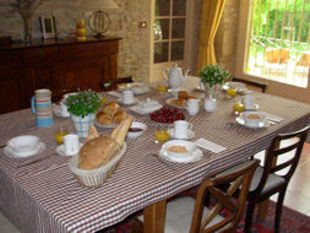 Lunch - Why not try one of the excellent local restaurants for a leisurely stop on a shady terrace, make it a quick break at a cafe, or simply fill up at one of the many markets for a picnic spot along the route - there's lots of choice.
Dinner - We provide 2 evening meals for our 6-night tour - a home-cooked 3-course set meal served under the vine covered pergola on our terrace (wine & soft drinks included), leaving your remaining dinners and your lunches to try the excellent local cuisine and produce.
The food served is all home-made and consists of authentic French classic dishes, and we use the freshest ingredients from the excellent local farmers' market whenever possible. The meals are accompanied with the excellent local Côtes du Luberon or Côtes de Ventoux wines.
Please note that our evening meals are home cooked in our small family kitchen, so unfortunately we cannot cater for vegan, gluten free or lactose intolerant customers - sorry.
If you are vegetarian or have any other food allergies can you please check with us at the time of booking, as all of our menus need to be planned in advance.
We also have drinks (beer, soft drinks & water), ice creams and bike energy bars available for a small fee in the "Honesty Fridge" - you just help yourself...
"Amazing dinners every other night. Not only delicious but a fun way of socializing with other guests."
Maureen - UK - July 13.

"Dinner (every 2nd evening) and breakfast are taken at the table under the trellised vines. Both were very friendly times with great chat around the table and excellent food and drink. Neil does a terrific job in the kitchen."
Ezza - Australia - Sept 13.

"Neil's recommendations for restaurants to try were excellent. "
G. Zimmerman - Canada -֠May 12.

"The Cowells are wonderful hosts, offering delicious dinners every other night. Highly recommended!!!"
Bruce - US - Oct 12.

Neil and his wife were lovely hosts and good cooks. It was one of our most favorite holidays.
Gary - US - July 10.

"We loved the alfresco dining under the shady vine covered pergola and the breakfasts served up were scrumptious."
Mark & Gill - UK - June 2009.
Click HERE to read more about our Bike Rides