WHY CHOOSE OUR B&B BASED TOURS.
CLICK HERE TO SEE OUR TOP-RATED TOUR REVIEWS ON TRIPADVISOR
Spring Offer: 10% OFF listed prices. Offer ends 28th Feb 19.*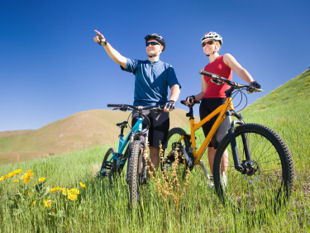 We know that you have a choice when selecting your bike tour. Which is why we have put a lot of effort, and all of our cycling experience, into every aspect of the service that we offer. Following are the main reasons that we think put us a wheel length ahead of the competition:
BIKE THE REAL PROVENCE: Our aim is to give you the self guided bike holiday that you want along with a real slice of Provence. Provence and the Luberon are our home - we live here and cycle these roads all year long. We know where to find the best, whatever it is that you are looking for:
quiet picturesque back roads or empty bike tracks,
flat routes, rolling hills or nasty 14% climbs,
a village cafe, a great pizza or an authentic 3-course Provencal meal,
famous hill villages or their less busy neighbours,
main attractions or the quieter undiscovered gems,
prestigious wine chateaux or smaller unpretentious local vineyards.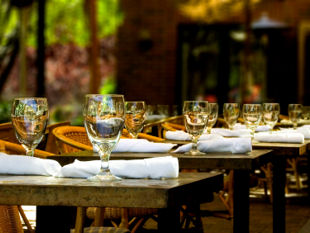 FLEXIBILTY: Do all the cycling and sightseeing you want to do, when you want to, with our easy to use, flexible pre-programmed GPS systems. We have rides loaded for all abilities and enough to keep the keenest biker busy. And, if your partner wants to do less cycling and sit by the pool or visit a sight, then that works too.
You can also now rent carbon road bikes, as well as electric assistance bikes so if one or both of you are not such strong riders it can make for an easier, fun time. (There's an extra €168 extra charge for your stay, including insurance - please enquire at the time of booking).
RELAX & ENJOY YOURSELF: You'll be able to combine biking & relaxation and hopefully really enjoy your stay in the Luberon. There's no having to pack & unpack your bags & move to a different hotel each day and no time-consuming logistics. We hope you'll be more than comfortable during your stay in our renovated 17th Century Provencal farmhouse, with its large pool, gardens and vineyards. Click here to see our B&B Accommodation TripAdvisor comments.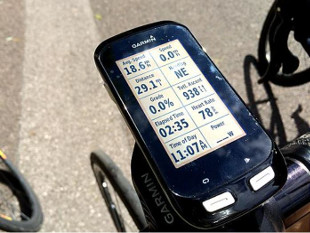 PERSONAL SCALE: We don't run mass tours, you're not just a number! Our groups are on a manageable personal scale, with never more than 8 to a group. Unlike some tours operators, we prefer not to run a minumum group size, so you can have the peace of mind that we will not cancel your tour at the last minute due to low numbers.
GREAT EQUIPMENT: We use quality equipment. Our brand new Trek hybrid bikes will get the best from your efforts, keeping you comfortable in the saddle, whilst the excellent Garmin GPS systems will guide you effortlessly around the ride and sights that you have chosen. And for peace of mind, in the unlikely event of a problem, help or back-up transport are just a call away.
GREAT VALUE: we aim to offer honestly priced, value for money bike tours. If you compare what we offer (the accommodation, No of nights, bike rental, a great location, meals etc), and how we offer it (flexible GPS systems, ride directory, back up, individualised personal service), you should find that we stand up very well to other tours. We can do this because we don't have to pay middlemen for hotels, food & bikes etc, these savings are passed onto you to make great prices.
SOME OF OUR TRIPADVISOR B&B BASED TOUR REVIEWS:

"I have travelled a great deal and I can definitely recommend this experience to anyone interested in a holiday in beautiful surroundings staying in personal, friendly, relaxing accommodation."
Harrison - UK - Apr 13.

"I recently spent 5 weeks cycling around France. The major highlight of the holiday was the time I spent at Provence Cycling Holidays."
Gill - Australia - May 12.

"Highly recommended. We will definitely be doing some more cycling trips as a result of our great first impression (perhaps the best compliment we can give)."
Richard & Annette - UK - June 10.

"With the warm and friendly hospitality from Neil and his wife and you could be forgiven for thinking that you have the good fortune to have a lovely retreat in the Luberon to share with good friends."
Barbara - UK - June 09.

"Great location, great hosts, fantastic stay, ticked every box."
Gareth - UK - Sept 08.
* Offer valid from Jan 7th, 2019, for bookings made before Feb 28th, 2019. Additional ebikes or road bikes not included.
Click HERE for Reviews