WHAT'S INCLUDED IN OUR B&B BASED TOURS.
Spring Offer: 10% OFF listed prices. Offer ends 28th Feb 19.*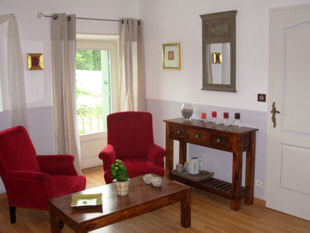 ACCOMMODATION: Stay in our TripAdvisor top rated 17th Century Provencal farmhouse with its comfortable, well equipped rooms, large gardens & pool, vines & terrace.
Click HERE for more details...
MEALS: All Breakfasts (copious French Buffet) & 2 home-cooked Dinners (including complimentary wine & drinks).
Click HERE for more details...
BIKE SUPPLIED: Use of one of our quality brand new Trek FX 3 Hybrid bikes, or you can rent a Road bike or an Ebike (€168 fee for the 6 nights, including insurance - Please enquire at the time of booking).
Click HERE for more details.
GPS SUPPLIED: Our "easy to use" Garmin Edge 1000 systems make finding your way around simple and stress-free! 1 per biker.
Click HERE for more details.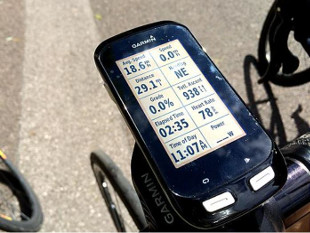 BIKE EQUIPMENT: Helmet, pannier bags, repair kit, pump, bottle, lock etc.
Click HERE for more details.
RIDE DIRECTORY: We'll supply you with access to our paper-based directory to help you choose the right rides. The following information is available for all of our 30+ rides:
Ride Difficulty

- All rides are categorised by

distance and climbing difficulty

into either: a Easy, Moderate, Hard or Extra Hard category.
Each ride has a

map

with the route highlighted and the nearby villages.
Along with

an altitude profile

of the ride and the number of metres to climb.

Tourism information

- Showing the villages visited, the best things to do there, our favourite cafes & restaurants etc...


These 30+, tried and tested, rides are all preloaded onto your GPS.
Click HERE for more details.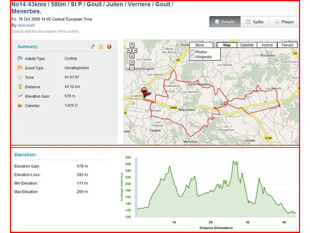 BACK-UP CARDS: Each ride in the directory has its own back-up card that you can take with you on your bike. These cards show the map, stats & a summary of the tourist information in order to help you get the most from your day on the bike.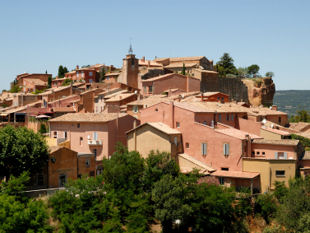 BACK-UP TRANSPORT: In the unlikely event of a mechanical problem we'll come out to solve the problem, or bring you home.
LOCAL / TOURISM INFORMATION: We'll supply you with a copy of our own "Real Provence" guide - the best things to do & see in the Luberon & Provence. Plus a list of our favourite, tried & tested, restaurants & cafes. And of course we'll try and help with any questions & requests that you may have.
Click HERE for more details.
SOME OF OUR B&B BASED TOUR REVIEWS:

"We were a party of 8 cyclists and Garmin novices. Neil educated us on his Garmin's so that we were able to navigate thru his great routes."
US - July 18.

"You get a well maintained bike, GPS loaded with routes for the day, and a card full of tips to the best restaurants in town. Off the bike, Neil and Nat provide beautiful farmhouse accommodation, delicious breakfast (and a couple of dinners) and help with any dinner reservations in the local villages."
Claire - Australia - Sept 18.

"Working out of a home base everyday on our self-guided and self-paced tours was the way to go. We could bike as little or as much as we wanted, leaving enough time for sightseeing, shopping and of course eating!!! The time Neil put into researching and developing the courses one has to choose from for each days ride, made everyone of them a winner."
Rick - US - Sept 17.

"I could hardly wait to get out to the veranda every morning to enjoy breakfast and to discuss the day's ride with Neil. Two evenings, Nat and Neil served beautiful home-cooked dinners that featured local produce and the classic tastes of Provence. They are fabulous cooks and serve with just the right amount of panache. They served "bike-riders' portions", which was much appreciated. The other evenings, Nat and Neil were kind enough to book a table for us. They know what is around and make great recommendations."
Bonnie & Eric - US - Sept 17.

"We felt totally comfortable the moment we arrived at Nat and Neil's B&B. The rooms were great, the beds very comfortable and the shared bathroom with our children worked out very well."
Alan - US - May 16.

"As first time cyclists we knew nothing about organising a cycling holiday. We didn't need to worry as Neil took care of everything. Sorted out bikes for us; supplied lists of clothing to bring (definitely need cycling shorts!) and where to buy things if you didn't bring them (definitely need cycling shorts!); helped us hire a car (to get the shorts)."
Deb - US - June 13.

"It's also very comforting to know that a friend with a car is just a phone call away should you need help. It's an ideal way of bicycle touring because you can ride at your own pace and schedule, or just take a day off to be a regular tourist. "
Courtney - US - Sept 12.

"Neil was very accommodating. Even met up with us to loan me some money when I forgot my wallet on our first biking outing."
Dana & Flynn - US - June 2010.
Click HERE to read more about how our Tours work.

* Offer valid from Jan 7th, 2019, for bookings made before Feb 28th, 2019. Additional ebikes or road bikes not included.