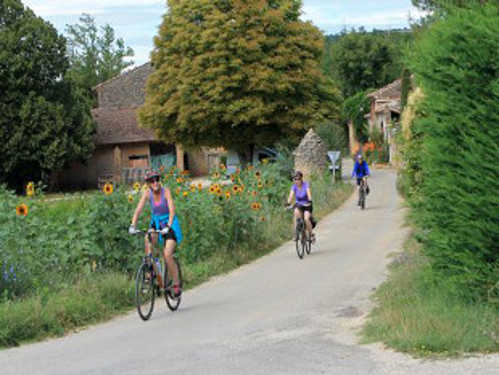 Enjoy single-based, self-guided bike tours from our family-run B&B in the Luberon, Provence.
Our 17th Century stone Farmhouse is 5* rated on TripAdvisor with a 100% recommendation rate.
As our tours are small scale, with no more than 8 bikers, we are able to give you an individual personalised service, thus making sure you get the best possible tour experience.
We live here all year round, so we can guide you along quite, beautiful backroads, that will take you through picturesque landscapes to the best sites, whether it be to an unknown pretty stone village, a favourite local restaurant, an authentic farmers' market or a renowned vineyard.
Our tours are self-guided and flexible. You choose the right ride, distance and level of difficulty to suit you on a daily basis.
And you go at your pace, it's your holiday!
Use our quality hybrid bikes, road or E-bikes & the latest, easy to use Garmin GPS systems, preprogrammed with all of our most popular rides, for all levels.
Click HERE to read more about What's Included in our Tours.

Wow! Our six days of cycling from Neil and Nat's B&B has been our favorite biking experience ever! From the moment we arrived, we felt completely comfortable. Just know that if you decide on Provence Cycling Holidays, you are in for a real treat with Provence Cycling Holidays!
Bonnie & Eric - US - Jul 16.
Our experience with Neil and Nat's property and guest experience was extraordinary. There is no better way to sightsee a beautiful area than on a bicycle seat, and it's nice when all the routes and planning are so well laid out and easy to negotiate with GPS units.
Hugh - UK - June 16.
This was our second stay at Neil & Nat's farmhouse B&B. The hospitality was just as outstanding as before. Neil has cycling routes to accommodate all abilities, taking in the picturesque Provence countryside and the pretty villages. It is a great way to see this area of Provence. I can highly recommend staying here. We had a lovely vacation.
Mairi - Saudi - May 16.
This is the easy way to stay in one location and go on all these amazing rides through beautiful lavender fields and rolling hills of grape vines and fabulous Centuries old homesteads. Even if you have not been on a bike for a long time you are looked after so well by the hosts Neil & Nat.
Denise - Australia - Sept 15.
A terrific week of biking and hospitality! We've been on 7 self-guided biking trips, and this is our favorite.
John - US - June 15.
We've just returned from nearly a month's wonderful vacation in France. We visited Paris, Provence and Cote d'Azur, but undoubtedly the highlight of the vacation was 6 days cycling with Provence-Cycling-Holidays.com.
Peter & Ann - Canada - May 14.
We had a wonderful 6 days cycling in Provence. Neil designed great rides each day to match our ambitions that took in wonderful villages, great lunch spots and wonderful views.
Adrian - NZ - Oct 13.
Cycling heaven! For anyone who enjoys cycling, French cuisine, beautiful scenery and being sociable, this is an ideal place to book for a week or so.
Ezza - Australia - Sept 13.
A week to remember! Would recommend a cycling holiday with Neil to everyone!
Robert - Australia - Sept 13.
I would recommend this trip to any cyclist.
Stephen - US - Sept 11.
"Hard to imagine a better vacation cycling in France..."
Peter & Frances - UK - Sept 2010.
"Fantastic! A haven for cyclist Neil was extremely helpful in assisting us with route planning and pointing out many of the fabulous attractions of Provence."
Janette & Uys - South Africa - July 2009.