HOW OUR B&B-BASED TOURS WORK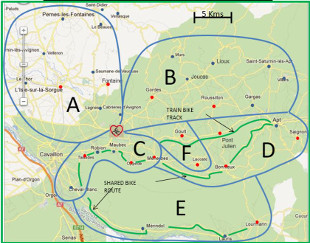 One of the main themes of our self guided bike tours is flexibility, we want to give you the tour that's right for you! So first of all you choose the start date that suits you.
When you're here you'll use our comprehensive Ride Directory (with 60+ rides) to help choose the right rides for you.
Start by choosing which of our 6 different zones you want to visit that day. Then choose the distance and the amount of climbing that suit you. You ride the distances & see the sights that you want to - when you want to! And if you want an afternoon of no riding, why not enjoy the pool or visit one of the many Luberon sights.
Simply select your chosen ride number on your easy to use Garmin GPS and then set off from our Farmhouse - it's that simple!
We provide quality Lapierre and Trek hybrid bikes built for comfort and speed, and all the kit you need for a safe and problem-free holiday, as well as back-up should you need it.
We can now provide electric assistance bikes for those who would like a more gentle tour (28 € extra charge per night - Please enquire at the time of booking).
Enjoy your stay at our popular B&B - a 17th Century Provencal farmhouse in the Luberon Regional Park with its stunning countryside, hilltop villages and calm backroads - a great backdrop for biking. We provide all breakfasts and every other dinner at the farmhouse, giving you lunchtimes and your remaining dinners to try the excellent local cuisine.
TOUR DURATION & START DATES: Our Tours last 6 nights (5 full days cycling) and start any day of the week. Please check with us for availability. Click HERE for pricing details...
ACCOMMODATION: We hope your stay will be a comfortable one in our 17th century Provencal Farmhouse. Our Bed & Breakfast has 4 rooms with traditional Provencal decoration, and they are all well equipped.
Situated opposite the Luberon Mountains we are at the heart of one of France's most beautiful regional parks. The Luberon Park, with its centuries-old stone villages and beautiful countryside, great sunny weather, makes for excellent biking. You'll use the farmhouse as your base for the week so there is no packing and unpacking your bags every day, meaning less stress, more relaxation - you're on holiday! Click HERE for more details...
Our accommodation continues to rank highly on TripAdvisor - with a 5 star rating.
Click HERE to check out the link to the anonymous comments from our B&B guests.
GARDENS & POOL: Enjoy the great weather in our large landscaped gardens & vineyards. You could also pull up a hammock on the terrace and relax in the sun, or grab a sun lounger by the pool. Click HERE for more details...

MEALS: We will provide a fresh and substantial French buffet breakfast each morning, as well as a set home cooked 3 course evening meal every third night, leaving your remaining dinners and your lunches to try the excellent local cuisine and produce. Click HERE for more details...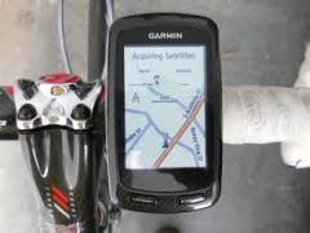 OUR RIDES, RIDE SELECTION & OUR GPS SYSTEMS: We have a wide selection of rides that we have put together following many years of living & cycling in the area. Click HERE for more details on Our Rides...
Each day you choose the ride(s) that you want to do in our 6 different zones, using our paper-based Ride Directory that gives information on distances, climbing difficulty, places visited for each ride, and more. Click HERE for more details on Ride Selection...
Using the Garmin GPS system on your bike, you select your chosen ride & then simply follow the route - it really is that easy! This means you'll be able to do some excellent self guided biking, in great countryside, without the need of maps & having to stop at every junction. Click HERE for more details on our GPS Systems... And for your peace of mind in the unlikely event that you have a mechanical problem, full support and transport are only a phone call away.
A TYPICAL DAY: We have examples of what 2 typical days of cycling look like. The 1st example is for guests that put more of an emphasis on the cycling, whilst the 2nd example has an emphasis on the sightseeing. Click HERE to see these two examples.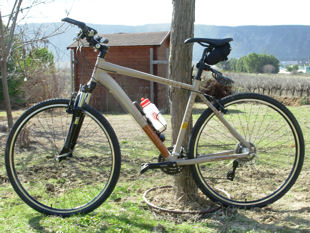 BIKE & EQUIPMENT: You'll use our top quality Lapierre and Trek hybrid bikes, which combine the comfortable riding position of a mountain bike with the perfomance of a road bike. We will also supply all the essential equipment you'll need for stress-free riding. Click HERE for more details.
We can also now provide electric assistance bikes for those who would like a more gentle tour (28 € extra charge per night - Please enquire at the time of booking).
FLEXIBILITY: We want to give you the self guided bike tour that's right for you, this means it needs to be flexible. As what is good for one person might not be right for the next. Our tours let you do as much or as little biking as you want. There is no "one ride a day to fit all" here, and there is definitely no time schedule to keep to. So if you want to stay by the pool in the morning and then do a quick ride to a hilltop village or vineyard - you can. But if you're more inclined to be on the bike by 9am and spend a day in the hills - that works too.
"It's especially great if you're with a group, and different members want to enjoy different levels of cycling trips--and then reconnect at the house."
Sarah, US - Jul 13.

"One difference: Being able to bike alone with my husband (as opposed to a tour) and choose the level of difficulty."
Maureen, UK - Jul 13.

"I cannot recommend strongly enough, if you are looking for an easy going and flexible touring arrangement for the Provence area. You can ride as little or as much as you like, all in the convenience of a lovely rural base. "
D. Moliterno - US - June 12.

"We wanted more flexibility than other tours had to offer - the perfect Provence holiday..."
Donna - US - June 2010.

"We would definitely come again- and probably will next year."
Manon & Sarah - UK - Sept 2010.

"Exactly as the website said. All in all a perfect holiday. "
Dave & Pippa - UK - July 2010.
Click HERE to read more about our Accommodation.