VILLA-BASED BIKE TOURS REVIEWS.
If you wish to read or leave a review on our Google business account, please click here: GOOGLE REVIEW

Following are our reviews from our new Self-Catering Villa in Taillades for our self-guided bike holidays: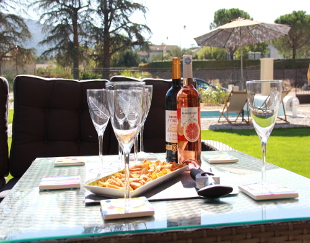 Don't think I have ever to been to a rental villa where everything works and everything is such tip top quality. Neil & Nat really have thought this out so carefully and beautifully, I suspect with a very generous budget. Really is a proper home from home - just a lot tidier than ours!
And super convenient, with a restaurant and bakery a stroll away & a big supermarket a five minutes drive.
Must admit we came more with the sun, the pool and the rose in mind, with cycling as a "maybe tomorrow if it's not too hot, fancy a top up?" side order.
But so pleased that we actually got on our bikes as have just had a magical family day out along bucolic, flat, quiet lanes to a beautiful Provencal village (and lunch and more rose). The bikes are great, but the whole GPS idea and clearly hours and hours of research that has gone into it is just brilliant, making for such an easy and such a lovely day.
Planning our next ride as I type - just follow the GPS pink line and you will be fine!
Tim - Can - Sept 18.

Neil and Nat's villa in Tailades was a wonderful choice for our adult family of 5 to meet up in Europe and holiday together. Choosing from the 30 odd self ride routes Neil has designed ensured we always rode on quiet picturesque country lanes and paths, while Nat would book us in for a fabulous lunch at a hilltop village that we never would have discovered ourselves. After not too strenuous exercise, we enjoyed some lazy time by the pool back at the villa while cooking a bbq for dinner. The villa itself was by far the best accommodation we had whilst in Europe and we all rated the experience 10/10 (and only one of us is a regular cyclist)!
Leigh & family - Aus - Sept 18.

We are a family of 6 and stayed at the self-catering villa in Taillades. It was splendid. We loved the set up of the villa - the huge well-equipped kitchen, spacious living areas and comfortable rooms. It fitted our needs to perfection - we had privacy and all the support we needed from Nat & Neil. Our days were spent cycling on one of the many routes programmed on the GPS and Neil would point out the restaurants and highlight sights we should not miss. The bikes were in tip-top condition and it was so helpful that they provided helmets.
We loved market days, the gentle hills, the historic ruins, the beautiful churches, the lavender fields etc - all lit up and glowing under the intense Provence sun. You could understand why Van Gogh and all the artists spent so much time in this beautiful part of France.
Nat & Neil were helpful, engaging and wonderful hosts. Highly recommended.
Caroline & family - Singapore - July 18.

All the wonderful reviews I've read are spot on.
The routes Neil provides take you to the loveliest villages where you can spend a couple of hours enjoying a terrific lunch of Provençal wine and food. And for you mature but steadfast bikers I cannot recommend ebikes too enthusiastically.
Hilltop villages - no problem. Wine legs after lunch - never an issue but not for lack of wine.
Steven - US - Jan 18.

Five of us had a fabulous time with Neil and Nat.
We stayed in their Villa, you do have the choice of the B&B but we were so happy with the Villa.
A 3 bedroom villa, fully stocked kitchen and a pool to cool off in. We weren't here at that time of year but one could only imagine how great it could be.
The options for cycling covers all levels of cycling from easy to hardest. We enjoyed the rides we choose and would say we are leisurely cyclists. Covered almost 200 kms over 5 days and no sore muscles. Saw beautiful villages, orchards galore and scenery to be enjoyed.
Neil and Nat's attention to detail is the best I have seen. They listen to what you want and try their best to accommodate. Made reservations at restaurants we thoroughly enjoyed.
A place to visit and accommodations I would give five stars plus two!!
Rose & friends - Can - Oct 17.

A visit to Provence was always on the "Bucket List" only enhanced by the desire to do some biking to see the best the area had to offer.
Provence Cycling Holidays was a great find!!
We opted for the Villa offering and were not disappointed, it was beautifully presented and catered for our needs. The bikes were 1st Class and as was all the biking info, GPS and guides.
A very well put together package.
Thumbs up from us
Robert - NZ - Oct 17.

We stayed at Villa Taillades in June 2017 with friends and had a brilliant time.
The villa was beautifully furnished and equipped to a high standard, and it was a comfortable and chilled place to relax after a day out cycling, particularly the pool, as Provence was in the middle of a heat wave when we were there!
The huge variety of cycle routes meant that we could take our pick according to how lively we felt each day. The garmin route guides took us on quiet tracks and roads that we would never have found ourselves, and were real bonus as there was no map reading required.
Neil and Natalene were really helpful with advice on the rides, which restaurants to try and the best places to visit.
All in all a fabulous holiday and highly recommended!
Julia - UK - June 17.

Following our fantastic experience at Neil and Nat's B&B my wife and I were desperate to return to Provence for more cycling. We had talked with them about their plans to have a villa using the same hub and spoke approach to cycle touring. This was the perfect solution for us as following our last visit the year before as we had had an addition to our family.
We felt the Villa would be ideal for us as we could bring our daughter and grandparents (to share baby responsibility) without bringing the disruption of a 4 month old to the B&B. I can honestly say that the Villa exceeded our expectations.
Neil gave us the grand tour. The open plan kitchen, diner and lounge were perfect for our needs and was the perfect place to relax following a day cycling. The kitchen had modern appliances throughout with all the utensils that we needed and an all important laundry room for that sweaty cycling kit. The lounge had a TV with English channels as did all the bedrooms.
Outside there was a terrace with a second dining table and another lounge area perfect for relaxing, planning the next day cycling and alfresco dining. The pool was also perfect for a post cycle dip and the lawn was the talk of the town. It really was we had a number of people ask how it was kept so green.
We had the standard high level of cycle planning from Neil. He would visit and ensure that we had the bike routes we required. There was a "route menu" on a blackboard in the living area with the corresponding route numbers for the garmin. We would mostly choose this from but Neil was more than happy to tailor a route to our needs.
The selection was diverse and catered for a range of cycling abilities. Perfect for my wife and myself but also my parents who to be fair are fit (dad did summit Mt Ventoux during the trip) but wouldn't be planning on doing long rides every day. The cycle track was a couple of kilometres away and linked nicely with Coustellet and is a perfect way to get to areas a bit further away from the Villa.
My wife and I took our own bikes but my parents used Neil's. The reviews from both my parents were very good and if they did not already have their own at home I suspect they would have been investing.
For the evenings we did not want to cook for ourselves we were provided with a folder with information about local restaurants. The ones we tried were fantastic (5 or six in our two trips). We particularly like the L'arome in Bonnieux. There is also a handy takeaway pizza place 5 minutes drive away which satisfied our carb and cheese craving one evening.

We would without hesitation return as we feel there is still much to explore on our bikes and Neil and Nat are so welcoming. The Villa is fantastic for those wanting a little more independence and privacy in comparison to the B&B and perfect for a family or a group of friends.
Really a first class service.
Despite being away from the B&B we still felt we were just a well looked after as if we were staying there. Hopefully when we return our daughter will be able to go in a bike trailer so she can join the fun too.
Oli - UK - Sept 16.

For other years' reviews, please click in the Menu.

For our B&B based tours' reviews, please click in the Menu.
Click HERE for Frequently Asked Questions.