VILLA-BASED BIKE TOURS REVIEWS.
If you wish to read or leave a review on our Google business account, please click here: GOOGLE REVIEW

Following are our reviews from our new Self-Catering Villa in Taillades for our self guided bike holidays, that we started in September 16: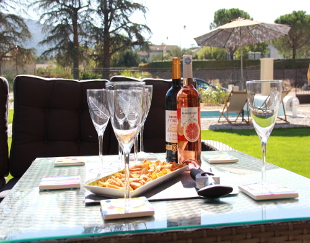 We stayed at Villa Taillades in June 2017 with friends and had a brilliant time.
The villa was beautifully furnished and equipped to a high standard, and it was a comfortable and chilled place to relax after a day out cycling, particularly the pool, as Provence was in the middle of a heat wave when we were there!

The huge variety of cycle routes meant that we could take our pick according to how lively we felt each day. The garmin route guides took us on quiet tracks and roads that we would never have found ourselves, and were real bonus as there was no map reading required.

Neil and Natalene were really helpful with advice on the rides, which restaurants to try and the best places to visit.
All in all a fabulous holiday and highly recommended!
Julia - UK - June 17.

Following our fantastic experience at Neil and Nat's B&B my wife and I were desperate to return to Provence for more cycling. We had talked with them about their plans to have a villa using the same hub and spoke approach to cycle touring. This was the perfect solution for us as following our last visit the year before as we had had an addition to our family.

We felt the Villa would be ideal for us as we could bring our daughter and grandparents (to share baby responsibility) without bringing the disruption of a 4 month old to the B&B. I can honestly say that the Villa exceeded our expectations.

Neil gave us the grand tour. The open plan kitchen, diner and lounge were perfect for our needs and was the perfect place to relax following a day cycling. The kitchen had modern appliances throughout with all the utensils that we needed and an all important laundry room for that sweaty cycling kit. The lounge had a TV with English channels as did all the bedrooms.

Outside there was a terrace with a second dining table and another lounge area perfect for relaxing, planning the next day cycling and alfresco dining. The pool was also perfect for a post cycle dip and the lawn was the talk of the town. It really was we had a number of people ask how it was kept so green.

We had the standard high level of cycle planning from Neil. He would visit and ensure that we had the bike routes we required. There was a "route menu" on a blackboard in the living area with the corresponding route numbers for the garmin. We would mostly choose this from but Neil was more than happy to tailor a route to our needs.
The selection was diverse and catered for a range of cycling abilities. Perfect for my wife and myself but also my parents who to be fair are fit (dad did summit Mt Ventoux during the trip) but wouldn't be planning on doing long rides every day. The cycle track was a couple of kilometres away and linked nicely with Coustellet and is a perfect way to get to areas a bit further away from the Villa.

My wife and I took our own bikes but my parents used Neil's. The reviews from both my parents were very good and if they did not already have their own at home I suspect they would have been investing.

For the evenings we did not want to cook for ourselves we were provided with a folder with information about local restaurants. The ones we tried were fantastic (5 or six in our two trips). We particularly like the L'arome in Bonnieux. There is also a handy takeaway pizza place 5 minutes drive away which satisfied our carb and cheese craving one evening.

We would without hesitation return as we feel there is still much to explore on our bikes and Neil and Nat are so welcoming. The Villa is fantastic for those wanting a little more independence and privacy in comparison to the B&B and perfect for a family or a group of friends.

Really a first class service.

Despite being away from the B&B we still felt we were just a well looked after as if we were staying there. Hopefully when we return our daughter will be able to go in a bike trailer so she can join the fun too.
Oli - UK - Sept 16.
For our B&B based tours' reviews, please click in the Menu.
Click HERE for Frequently Asked Questions.