VILLA-BASED TOURS - WHAT'S INCLUDED.
ACCOMMODATION: Stay in our new Provencal style villa. Furnished, decorated and equipped to a high standard, it has 3 large, comfortable double bedrooms & 2 bathrooms. Outside it has a large terrace & pergola, landscaped gardens and a covered pool.
Click HERE for more details...
BIKE SUPPLIED: We supply quality, aluminium Trek Hybrid bikes. If you would prefer an electric assistance bike they can be rented for €25 per night - Please enquire at the time of booking.
Click HERE for more details.
GPS SUPPLIED: Our "easy to use" Garmin GPS systems make finding your way, and following our pre programmed routes, really simple!
Click HERE for more details.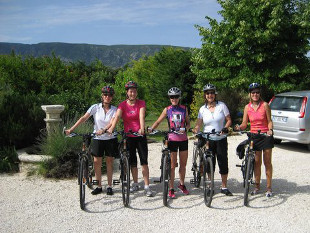 BIKE EQUIPMENT: Helmets, pannier bags, repair kits, pumps, bottles, locks, SPD pedals etc...
Click HERE for more details.
RIDE DIRECTORY: We'll supply you with our paper-based directory to help you choose the right rides. The following information is available for our 20+ rides:
A map with the route highlighted and the nearby villages.
An altitude profile of the ride.
Multiple selection criteria: Distance, Time (@ different speeds), Metres climbed & a climbing difficulty rating.
Tourist information: We have all the most popular sights along the way listed, along with the best restaurants & cafes etc.
These tried and tested, back road rides are all pre-programmed onto your GPS.


Click HERE for more details.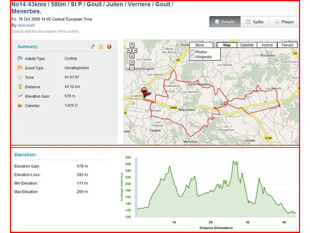 RIDE NOTES: Each ride in the directory has its own set of notes on a small card that you can take with you on your bike. These cards show the map overview, some stats, but most importantly of all, it lists all of the most popular tourist sights & restaurants along with all the information you'd need to help you get the most from your ride.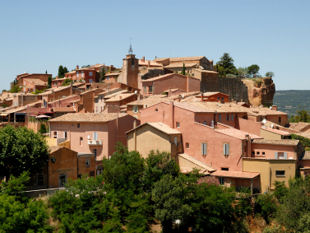 BREAK-DOWN HELP: You can relax and enjoy your day, knowing that in the rare event of a bike problem help is just a call away.
LOCAL / TOURISM INFORMATION: We supply a folder with information on all the most popular things to do & see in the Luberon & Provence. Plus a list of our and our guests' favourite, tried & tested restaurants & cafes. We have also put together a comprehensive directory with all the services you might need, along with where to find them, opening hours, tel nos etc; supermarkets, markets, pharmacies, doctors, cash points etc.
Click HERE for more details.
SOME CUSTOMER QUOTES ON OUR SELF GUIDED TOUR SET UP

"It's also very comforting to know that a friend with a car is just a phone call away should you need help. It's an ideal way of bicycle touring because you can ride at your own pace and schedule, or just take a day off to be a regular tourist. "
Courtney - US - Sept 12.

"The best part was that each bike was equipped with its own GPS allowing us true custom tour routes."
Jeff & Lynda - US - Sept 2010.

"Neil made it all very easy with great bikes and great advice."
Richard & Annette - UK - June 2010.

"Neil was very accommodating. Even met up with us to loan me some money when I forgot my wallet on our first biking outing."
Dana & Flynn - US - June 2010.
Click HERE to read more about how our Villa-based Tours work.